Pin It Now!
I can't believe that Christmas has come and gone already. It's kinda sad, to be honest.
I just love Christmas.
I love that it means that there is something great to look forward to and prepare for. I love that it means that we get to live out traditions, make new ones and purposely find ways to have a good time. It somehow makes people more generous and kind to others, and it gives you an automatic free pass to eat whatever you want without thinking about it at all (which we certainly did!). It's just all around fabulous.
But then when you throw some kids into the mix, the whole Christmas cheer thing gets bumped up a notch and all of a sudden it has the possibility of becoming magical.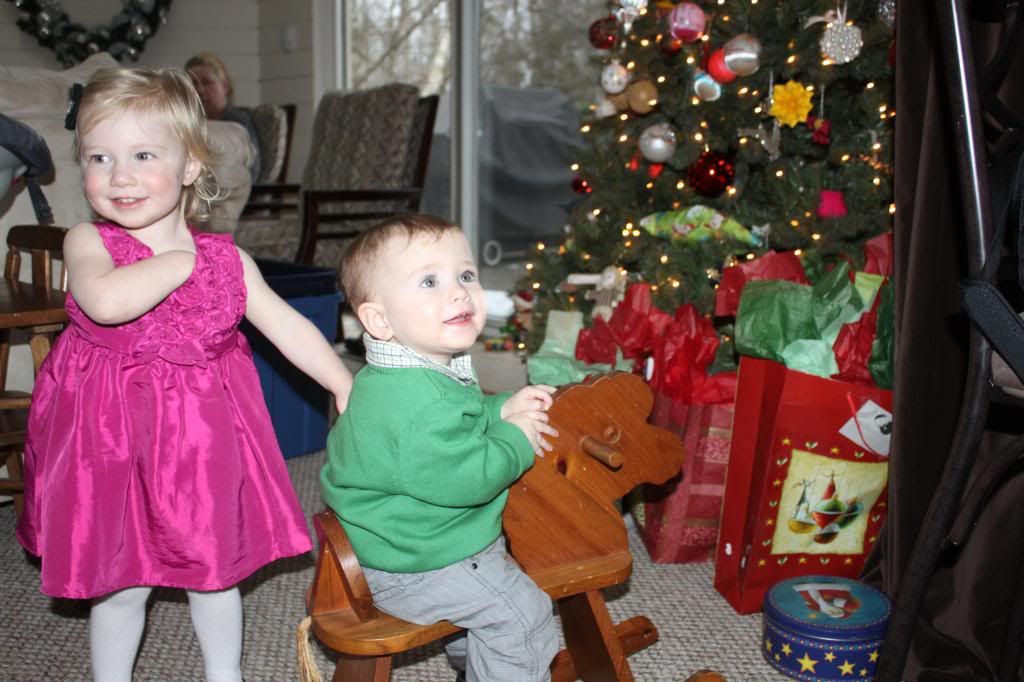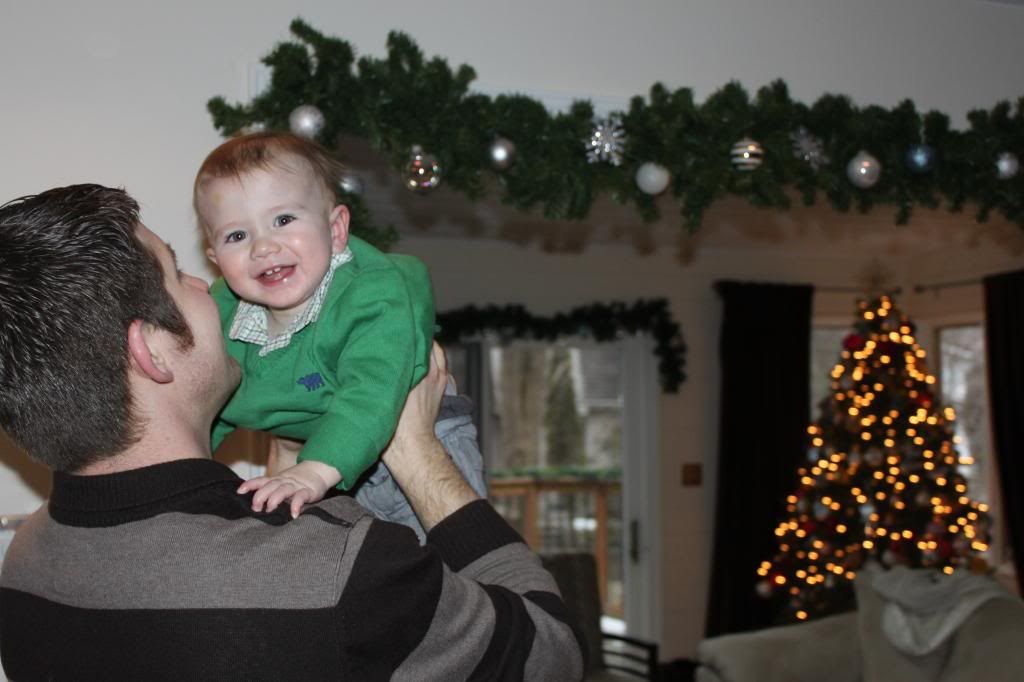 It was definitely magical this year.
It wasn't just Christmas day that we celebrated. Christmas was extended over the span of a week as we all piled into our cars, packed up the kids and moved into my parents house. Three kids (a 2yr old, a one year old and an infant), along with mom and dad, Jen and Jeff, Terry and I and Terry's mom (Judy) spent time together eating delicious food, watching trashy television, playing in the snow, watching Christmas movies, playing board games, talking about how Santa was on his way and hanging out together.
There were of course the inevitable meltdowns, time-outs, crying babies and sleepless nights. But magical? We made sure of it.
We scattered reindeer food (oats and sprinkles) all over the front yard on Christmas eve for Santa's reindeer to eat as they waited for Santa to fill our stockings.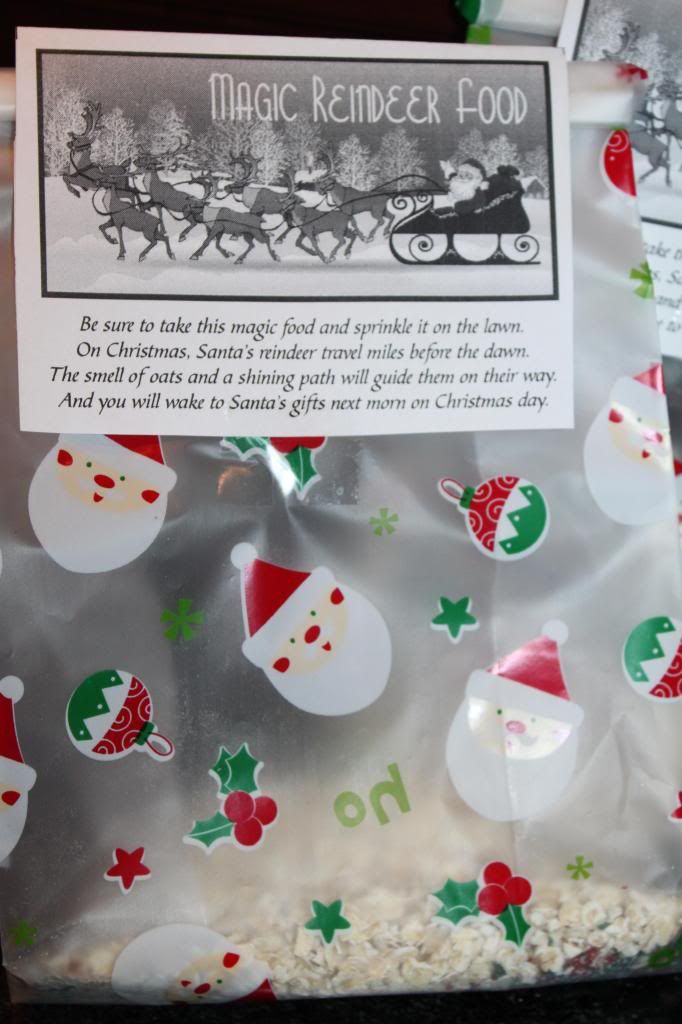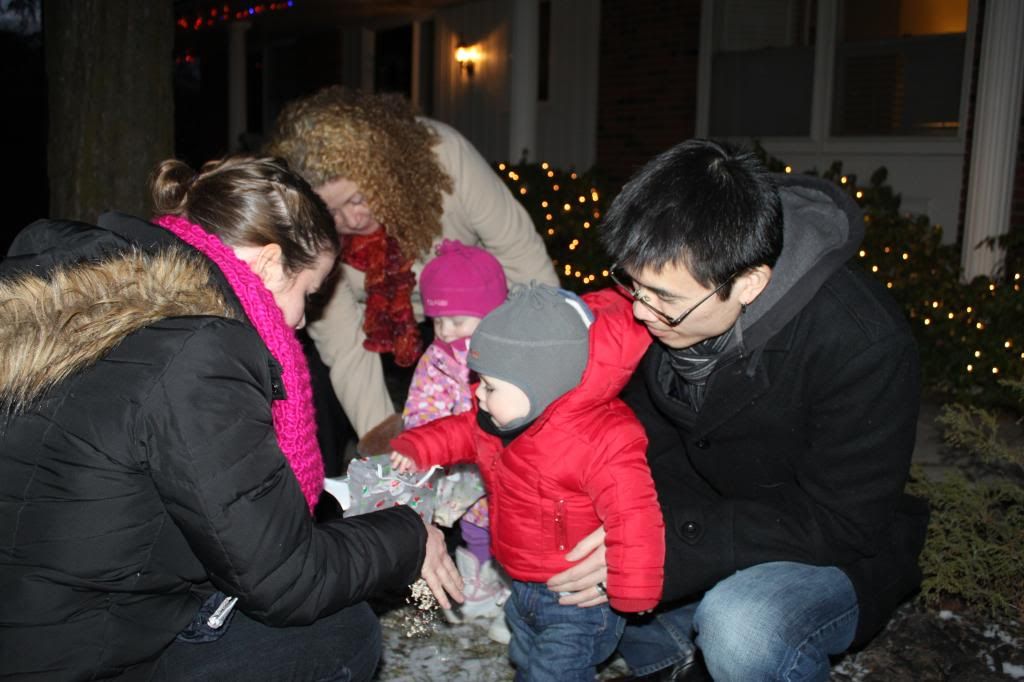 Santa Claus himself even dropped off a special package for the kids in the mailbox for them to open on Christmas Eve...




...which was a special Christmas book for them to read together before bedtime that night.


Our plates were full of delicious food--and we decided that we had to take a picture of all of us together at the dinner table since it was nothing short of a miracle. We usually have at least one or two of us up fussing over the kids, rocking Carter or cleaning up food that was thrown onto the floor. "It's a Christmas miracle!" could be heard shouted across the table as paper crowns were positioned on our heads and wine glasses (or, sparkling juice in my case) were refilled.


And of course there were dance parties to be had where we cranked up the music and spun around to endless giggling.


These cousins had nightly bath time play dates (with photographic evidence that we will surely one day use in a slide show at both of their weddings).

And don't forget the toboggan rides around the crescent (yes, that's Oliver in that one toboggan..he decided that he only liked being pulled if he was laying down..cutest thing ever).


There were board games being played...
...and of course Christmas isn't complete without baking up some delicious cookies.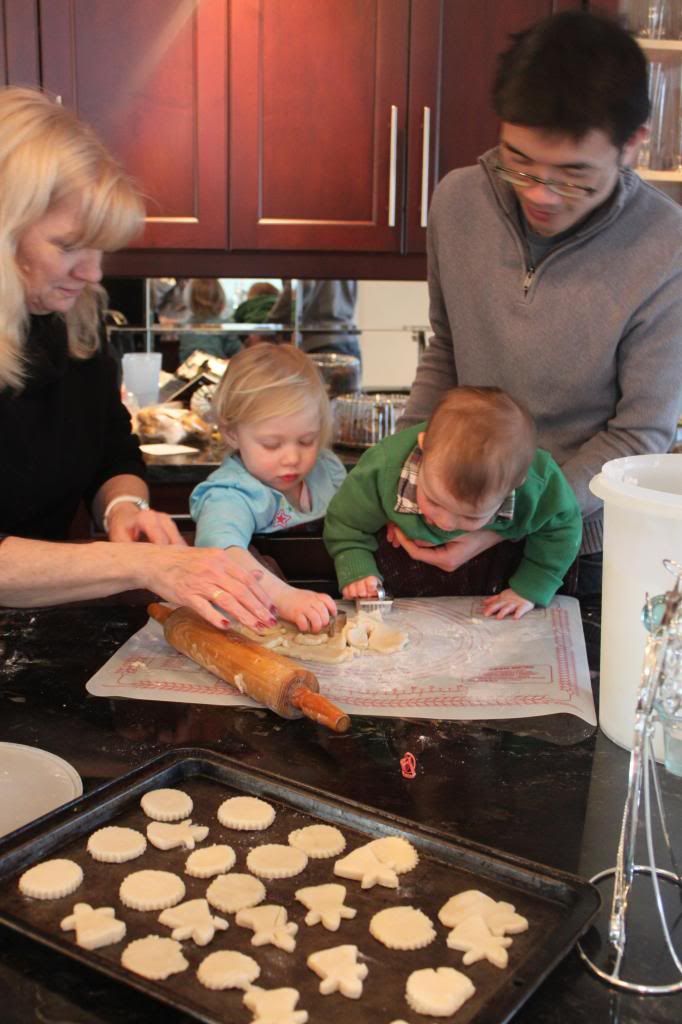 And Christmas morning? Well...that was just organized chaos. Pure joy. Pure chaos, all wrapped up into one big ball of fun.







...And the final gift of the morning? Balance bikes for the kids-with a little room to grow into them before summertime.
*If you haven't heard of these bikes before, they're bikes without pedals (meant for toddlers or young kids) to teach them how to ride a bike at a really early age and balance properly.
Best little bikes ever. Thanks mom and dad!



But the real gift that brought down the house this year? The $2 (used) Good Will popper (you know those things that we had as kids?)..ya. Mya was the lucky recipient of this gift...

....which brought Oliver to absolute tears. It's hard being a one year old--especially when you have to wait to have a turn with the popper. Oh dear. This pic above is of us literally pulling the popper out of their hands as they're both on the verge of tears.


Don't worry though. Dad saved the day with a box. Phew.


And the Christmas celebrations didn't end at mom and dad's house. We headed over to Terry's family's house and continued the eating and celebrating...which these two little ones were clearly thrilled about.




Hope everyone had a wonderful Christmas. Happy New Year!!