Pin It Now!
Mya: To be honest...
1. When I put you down for your afternoon nap, I tell you that Carter and I will be going for a nap too so that you don't think that anything fun is happening while you're sleeping. But to be honest, I sometimes crack open the junk food and snack on all of the unhealthy things that I don't want you to eat. I never nap. Ever.
2. I'm scared that a boy will one day break your heart. Then I will have to break his legs.
Okay, so I might not actually break his legs..but I'll want to. Secretly.
3. I tell your dad that I'm sneaking into your room at night while you're sleeping to make sure that your blankets are on you or that your room isn't too cold. But to be honest, I really go in just to get one last look at you before bedtime. Especially if I've had a stressful day. Seeing you snuggled up, blonde curls sprawled all over your face, all cuddled up to your blanket and bunny is calming and beautiful to watch.
4)
There's no poop on your tutu. I only told you that so that you would finally let me throw it in the washing machine, without putting up a fuss, since you want to wear it every single day. Sometimes moms have to lie like this for your own good. Sorry.
5) Sometimes I'm shocked at the amount of responsibility that I now have. I still feel like I'm a kid playing house some days. Even with two kids, I still don't feel like a real adult yet. Don't know if I ever will.
6) When you're doing something inappropriate, your dad and I get all serious and let you know that it's not okay...but then sometimes we secretly laugh when you're not looking, cause seriously..some of the stuff that you do is freakin' hilarious.
7) Sometimes motherhood makes me cry. A lot of happy tears, but occasionally some tears of feeling overwhelmed or exhausted.
Carter: to be honest...
8) I'm so scared that you're growing up too fast. I already miss your squishy baby legs that used to curl up every time that I held you.
9) Sometimes I worry about the fact that I'm not granted the same time with you that I had with Mya when she was a baby, to just sit and soak up every moment of you all day long. I try though, and I absolutely love those moments. But the mommy guilt still finds me as I have to share time between both your sister and you. Mommy guilt is the worst.
10) When I hold you late at night and watch your eyes close as you drift off into dreamland I feel like I'm the luckiest mama in the world. Even when it's 3am.
11) Sometimes I worry that I don't know enough about raising boys. I'm gonna try my hardest though...I can guarantee that. I want to teach you how to be a gentleman, to hold doors open for people, to offer up your seat, to be kind, to be generous and to give. And you can be sure that you'll know how to cook. Every man needs to know how to cook.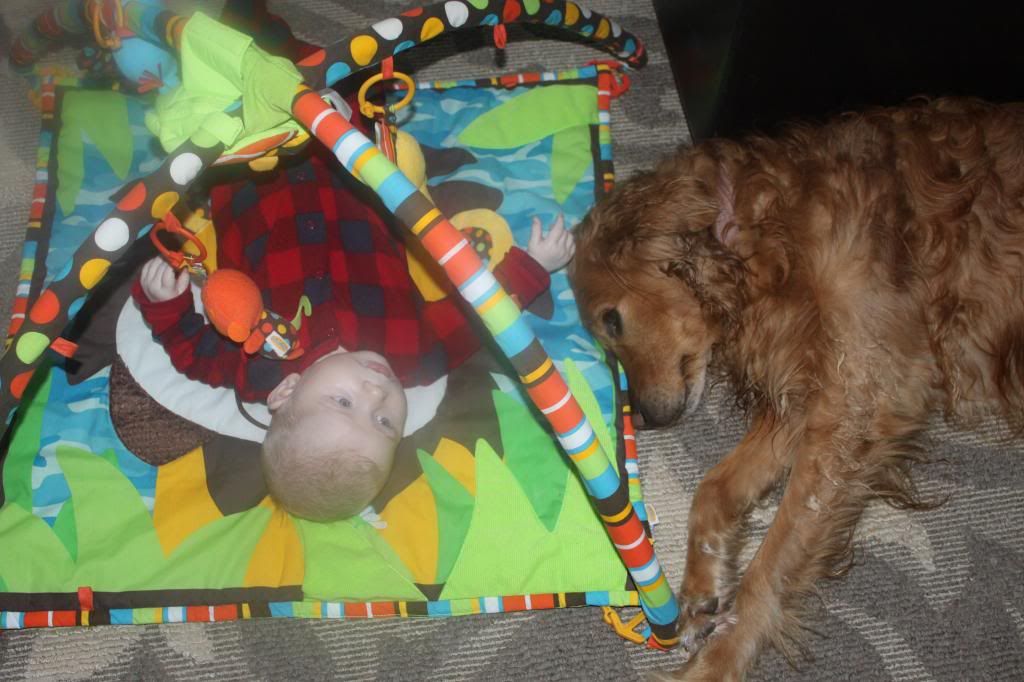 If I let her get any closer she'd be cuddled right up to your face I'm sure. Thankfully Meika loves you and your sister just as much as we do.
12) Sometimes on those bad nights, after being woken up for the millionth time in the middle of the night, I think to myself that two kids is just enough for us. Then I wake up in the morning, and immediately I switch right back to wanting four of you little monkeys. Every single time.
13) You, your sister and your daddy own my heart. I love you all so much that it hurts.